Concealable Body Armor Bulletproof Vest Military NIJ Standard Level Ⅱ cartridges protect clothes
View the gun shoot test via YouTube:
https://www.youtube.com/watch?v=gE_5Es3Vz60&t=139s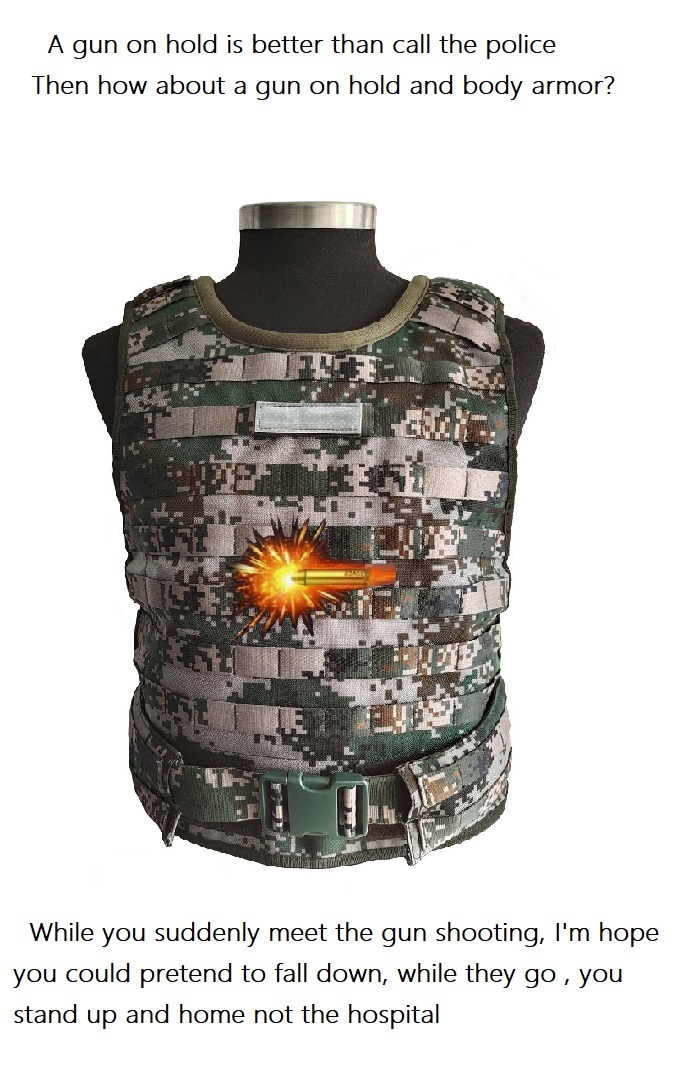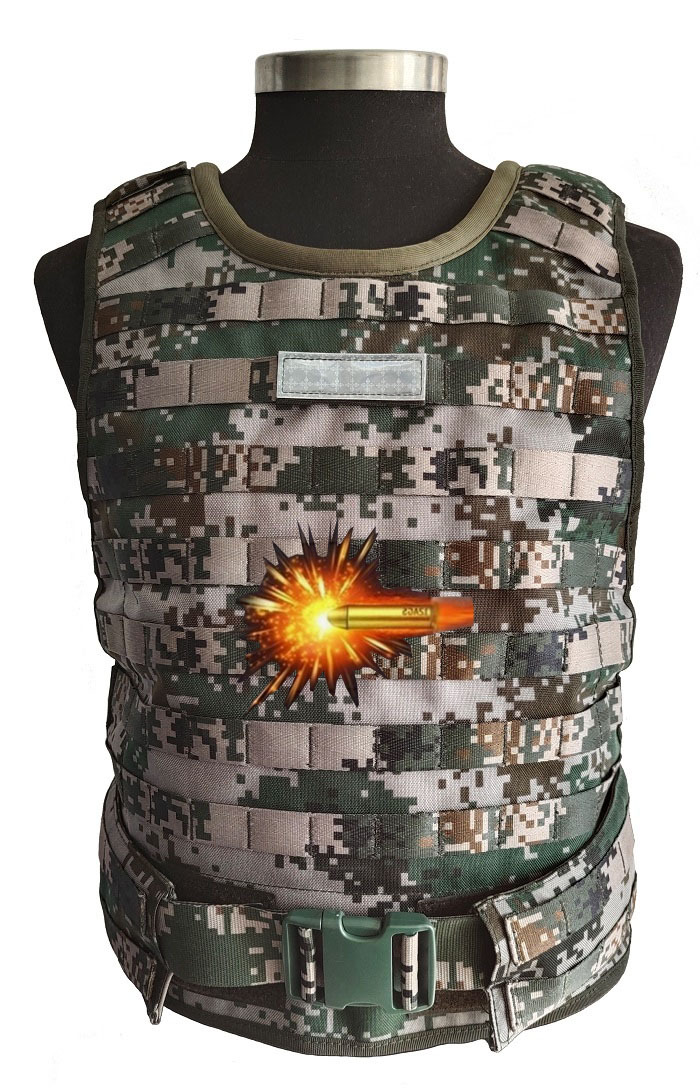 NIJ Standard 0108.01 Bulletproof Vest stops multiple rounds of handgun threats (up to .44 Mag)
Maximum concealment and optimal protection area coverage.
Product Description
"Golden Cicada" soft body armor is a series of bulletproof equipment independently developed and registered by the anti-terrorism equipment research and development department of the First Research Institute of the Ministry of Public Security. It adopts the internationally leading ultra-high strength and ultra-high modulus heterocyclic aramid composite bullet Material. The raw material has been used in aero engines and rockets with excellent quality. The "Golden Cicada" series of bulletproof vests have broken through the technical barriers of the same foreign materials. It has outstanding advantages such as high strength and high modulus, light weight, good impact resistance, high temperature resistance, flame retardant, and ultraviolet resistance. It has excellent comprehensive performance and is currently in the field of bulletproof mechanics. One of the best high-performance fibers with excellent ballistic performance!
Specification

1. Protection level: NIJ Level II ( China standard of "GJB 4300A" );
2. Protective bullets: 51 type 7.62mm pistol bullets (lead core) fired by domestic 54 type 7.62mm pistols;
3.1.1g fragment V50≥610m/s;
4. Bulletproof material: China aramid Ⅲ latitude cloth;
5. Protection area: 0.25m2;
6. Chip quality: 1.67kg
Performance characteristics
The "Golden Cicada" series of bulletproof vests are also the lightest and thinnest among the same level of bulletproof vests in China. It not only reduces weight by more than 30%, but also has excellent performance in thickness and softness. The body fits very well and has very Excellent fitting properties! It is China's milestone progress in the field of single police bulletproof!
Bulletproof rating

Protect Bullet gun type

Bullet muzzle velocity((m/s)

Chip weight

(m/s)

Chip thickness(mm)

Second Level

1954 Year 7.62mm gun with 1951 Year Lead bullet

455±10

≤1.08kg

≤5.0
Other Famous people who wear the Body Armor photo: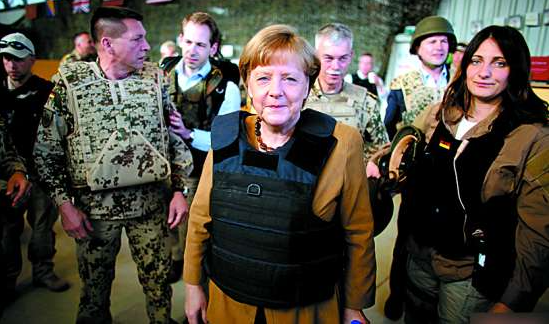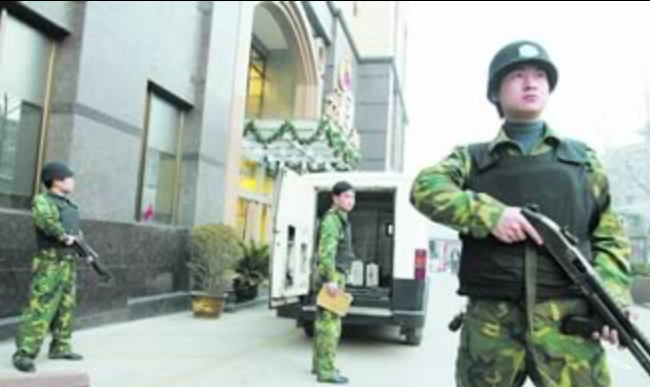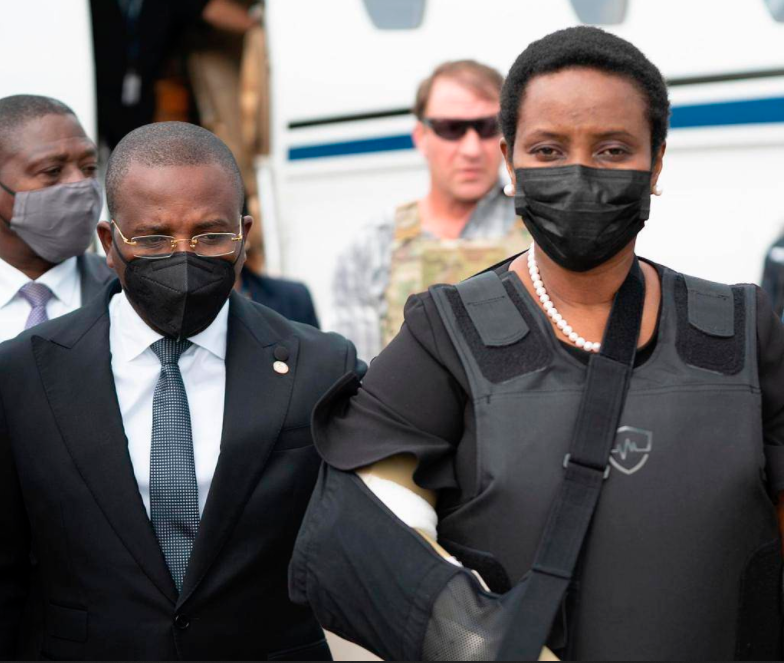 Contact Us:
Contact Person: Mary Ye
Skype: maryye214
Whatsapp: +8613410171939
Email: hketestgroup@gmail.com

ByBryn ConnorSaturday, 19 March 2022
"Great well made carrier Well just received it and it was worth the wait! Solidly made and fits well. They don't hinder movement. Thinking about getting another for my son."
ByAri HakalaWednesday, 16 March 2022
"Comfortable like your mother This isn't my first body armor, but I've also never had to live in one or wear one for an extended period of time outside training. I'm buy this 'low price' body armor that were actually of decent build quality and really tough. It is very suit for long time wear for outside."
ByAnisabibi KhanTuesday, 15 March 2022
Excellent product, Impressed with high quality materials and craftsmanship, very pleased.
ByCarlos MatosFriday, 11 March 2022
Great vest, fits well, solid all around. look forward to using it soon!
ByJorge InonanWednesday, 09 March 2022
Absolutely pleased! My order was processed and shipped out immediately. The product was exactly what I wanted and ordered. I was really surprised i got it as fast as I did.
ByRoger JohanssonFriday, 04 March 2022
Excellent quality and exactly as described!
ByBal Krishan PandeyFriday, 18 February 2022
I'm have to wear this into an unfriendly environment I will definitely feel safe and secure!!!
ByAlejandro CalderonSaturday, 12 February 2022
It's the little things, it's replacing my flat plate. All day wear and in and out of a vehicle the little curve makes a difference.
ByChristian MarinoFriday, 21 January 2022
Well made, thin with good curve and cuts and easy adjustments.
ByPierrick MauriceSaturday, 08 January 2022
Love the low profile! Price was great for a quality product!
ByWilfried GrohnertSaturday, 08 January 2022
My wife bought me a vest from Moden Family when he was in Texas just before the SHOT show. What an awesome guy! it's perfect! Love the vest AND the price! Thanks!
BySinead GunningTuesday, 04 January 2022
The vest is great , and had a concern at first that the vest won't work but after watching the YouTube video, I was shocked and amazed! I feel safe already of the job I do this will do it's duty! Thank you
ByRicardo Debeneditto JrSunday, 26 December 2021
I work for G4S Secure Solutions USA in a Publix grocery store 40 hours a week. My job is to be visible to make a potential robber go someplace else! This does that quite well (in addition to my Class A uniform and Glock 17). I've worn it inside the shirt as well as exposed. I prefer the exposed better because it is cooler, plus looks better (I think). I'm going to buy the insert soon for even greater protection in the event of a conflict. Your prices make it affordable for people such as me, who aren't given a vest by our employers.
ByJack WaldnerSaturday, 11 December 2021
Received in about a week and was surprised with the quality construction. I've worn vest for 12 hours straight and none are comfortable but this one is better than most. Very satisfied.
ByGuilherme PassosSaturday, 11 December 2021
Vest fits great and is comfortable.
ByCHRIS MUZIOSaturday, 11 December 2021
I bought this vest for work and I'm a peace officer for a casino and requires me to move fast on my feet, just the other day, we had a armed mad man fall asleep and when we woke him he almost fired at us, and I didn't really run that fast cause I was wearing the bulletproof vest.
ByBatsaikhan TamirWednesday, 08 December 2021
Now that the weather is warming. I go to the range . The last time I went so many new guns and new owners. I wanted some protection .
ByBill ElsonSunday, 05 December 2021
I wear the vest daily and I really appreciate the comfort. The best feature of the vest besides the protection part is nobody can tell your wearing a vest. It's not bulky and doesn't show imprints on your clothes.
ByScottys auto repairSaturday, 04 December 2021
First class product comfortable padded feel. Thin yet substantial thickness. Good purchase, though I haven't worn it long time periods yet.
ByDiane DeVonoWednesday, 01 December 2021
If you're looking for a slim, low profile vest this is it.